(March 29, 2023)
With the new Circadian Phase Sleep + Stress Assessment, individuals can now add salivary cortisol to receive a more comprehensive evaluation of their circadian rhythm. Individuals can easily complete the assessment in the comfort of their own home and use the results to aid in the evaluation of health concerns related to excessive or insufficient cortisol production, as well as atypical regulation of their sleep-wake cycle.
Few objective measures exist on a physiological level that can be routinely implemented to reveal the exact timing of different circadian phases. However, individuals now have the flexibility to perform a home-based Sleep + Stress Assessment by including salivary cortisol, a well-known stress hormone. The + Stress add-on is available for all three (3) Circadian Phase Assessments: Dim Light Melatonin Onset (DLMO), Dim Light Melatonin Offset (DLMOff), and the 24-Hour Circadian Phase Map, providing a clearer window into each individual's unique circadian physiology. "By measuring both cortisol and melatonin at the same time, it is possible to gain more insight into the body's internal 24-hour "clock" that regulates many physiological processes, including sleep and wakefulness, hormone production, and metabolism," says Steve Granger, Ph.D., Chief Scientific Officer at Salimetrics.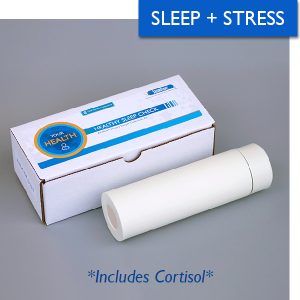 Measuring melatonin and cortisol levels simultaneously over multiple time points can help check for disruptions to the normal circadian rhythm, which may be indicative of certain sleep disorders, depression, or chronic stress. "While the production of melatonin is controlled by the body's internal clock in response to light and darkness, and is highest at night to promote sleep, cortisol is released by the adrenal gland in response to stress and is typically highest in the morning and decreases throughout the day," says Granger. "When cortisol levels are elevated due to stress or other factors, it can interfere with the production and regulation of melatonin, the hormone responsible for promoting sleep. In effect, elevated cortisol around bedtime means your body is physiologically heading in the opposite direction when you are trying to fall asleep, stay asleep, or obtain restorative sleep. Additionally, cortisol levels that are too low can also impact sleep quality. Therefore, maintaining normal cortisol levels is also important for overall sleep health."
While melatonin testing was central to the initial circadian phase assessment, Salimetrics worked quickly to add the stress component as an optional add-on. "While we recognize the importance of the cortisol/melatonin relationship, our initial launch goal was to keep pricing as low as possible," says Granger. "However, the potential of this relationship is often invaluable in treating sleep-related disruptions, so we worked quickly to make it available as part of our online test menu."
Now, sleep medicine providers have a community-driven tool to aid in the management of circadian rhythm sleep-wake disorders (CRSWD) which can be utilized in two ways – firstly, to establish a baseline understanding of an individual's physiological rhythms, and secondly, to focus on specific targets for treatment. By adopting a community-driven approach, Salimetrics is building a more comprehensive system that is better equipped to meet the diverse needs of its providers. "We've been committed to incorporating feedback from both the sleep medicine community and the patients themselves to continually enhance the ease and effectiveness of our sleep tests since inception," says Granger.
Sleep health providers can visit https://biologyofsleep.com to learn more about how to integrate circadian phase assessments or to register in 5 minutes or less. Once registered, providers can immediately refer patients to order their assessment kit. From there, Salimetrics facilitates the in-between steps, until results are sent to the provider and patient through a HIPAA compliant results portal.
About Salimetrics:
Salimetrics' assay kits and CLIA-certified testing services are used to measure salivary analytes related to stress, behavior and development, inflammation, sleep, reproduction, health and immune function. Founded in 1998 by Douglas A. Granger, Ph.D., Salimetrics, LLC support CROs, pharmaceuticals, academic researchers and the immunodiagnostic industry around the world with innovative immunoassay products, non-invasive saliva collection methods, and laboratory testing services.
Read this article on PR Web